Free Printable Wedding Traditions Around the World Game
Wedding traditions are different in different parts of the world. At some places the wedding celebrations keep on going for several days. Check the knowledge of your guests about the different wedding traditions across the globe through this Free Printable Wedding Traditions Around the World Game. There are ten different traditions on this game card and names of ten different countries. The guests will have to guess that which tradition belongs to which country. I have made these adorable game cards in three different colors. You can print this game in the color of your choice.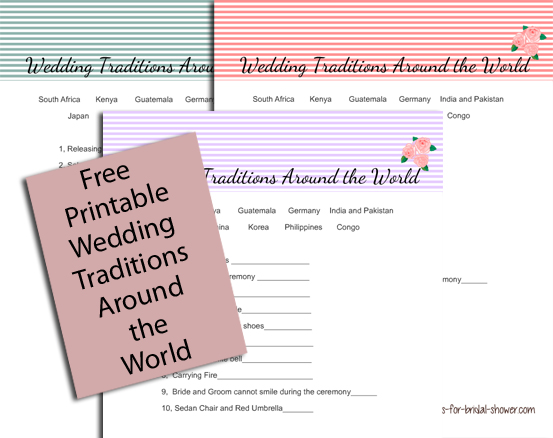 How to Play: Print and distribute these free printable game cards among the guest along with something to write with. Ask then to write down the name of the country in the space given in front of each wedding tradition. Click here to download the answer key so you can check the answers given by the guests. The person with most correct answers will be the winner.
Free Printable Wedding Traditions Around the World in Pink Color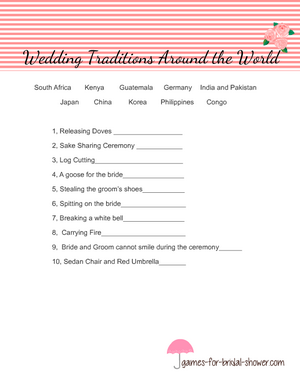 This is the first free printable card for this wedding traditions around the world game. This game card has a pink striped header that is decorated wil flowers. Just click on the thumbnail image of this game and a bigger printable image will open up. You can right click and save that image.
---
Wedding traditions around the World in Green Color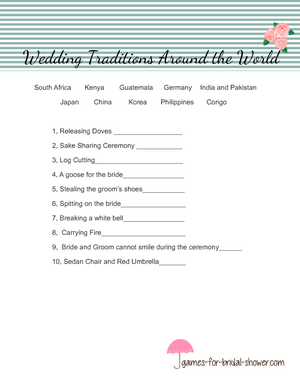 This game card is in green color. Click on the thumbnail image and then print or save the bigger image if green color matches the theme of your bridal shower party more. .
Wedding Traditions Game in Lilac Color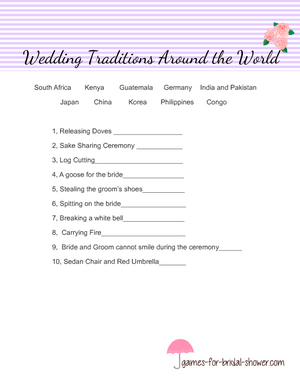 If lilac matches the bridal party's theme more then click on the image that I have shared above and then right click and save the bigger printable version or print right away using the print command. This game is fun and will add some information to the knowledge of the participents.
Related Posts and Categories
---