Guess the Dress, Free Printable Game for Bridal Shower
This is a fun bridal shower game that will make all the guests giggle if any of the guests wont have some good drawing skills. This fun little game will check the drawing skills of the guests and also the fact that how well do they know the bride and her choices when it comes to selection of the dress. I have made this game for a beautiful caucasian bride and also for an adorable African-American bride. You can print any copy of this game that suits your needs.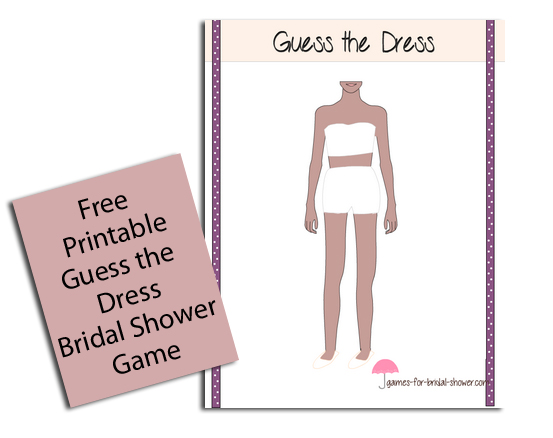 How to Play: Print and distribute these guess the dress game cards among your guests along with a pencil and some color pencils. There is a silhouette of a bride given on each game card who is wearing some under dress. Ask the guests to draw the dress they think the bride would be wearing on her wedding day. Will it have a high neckline or low, will she wear a veil or not, will the dress be long or short. Ask the guests to just draw it the way the think the dress would look like. After all the guests have finished drawing the dress, collect the game cards and show those to the bride to be. The person who has drawn the dress closest to the real thing will be the winner. At the end of the game show the most badly drawn picture to the guests (with the conscent of the guest who has drawn it) for some hearty laughs.
Free Printable Guess the Dress Game for African-American Bride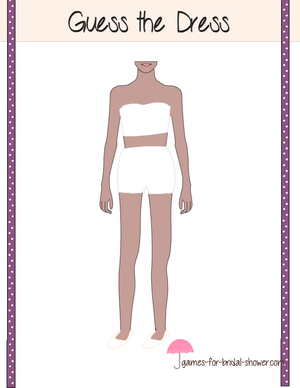 Click on the image shared above to view and save the bigger printable image of this cute Guess the Dress game with an African American Bride. You should give your guests white crayons or pastel along with a black felt pen so they can make the outline of the dress in black and fill it up with white.
---
Guess the Dress Game Printable Purple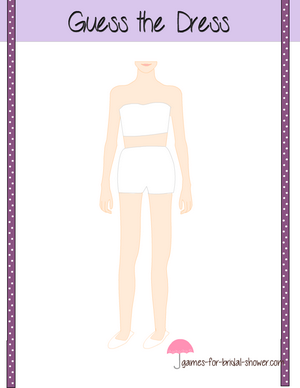 This is a fun and creative game that will be enjoyed by everyone at your bridal shower party. shared above I am sharing another free printable for this game. It has silhouette of a caucasian bride and a purple header and purple border.
Free Printable Bridal Shower Guess the Dress Game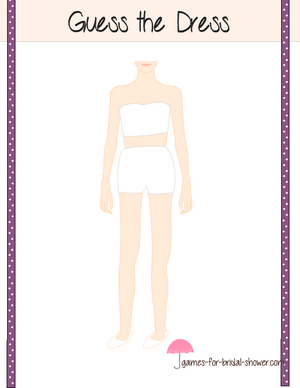 This is another free printable for this bridal shower game. It has an offwhite header. You can print these games in any color that matches the theme of your bridal shower party.
Related Posts
---