Free Printable Bridal Shower Word Bingo Game
Bingo is a very popular party game and it is also played on Bridal Showers. That is why I have made free printable Bingo game cards in three different colors. You can print these cards using your home printer and having the option of three colors, you can choose the set of cards that matches your bridal shower theme. To get the set of these cards, click on any of the bingo cards image that I have made, a .zip file will be downloaded. Upon extracting that file you will get 20 different free bingo cards and one caller's checklist of words.
These are 20 different cards so if you are having a bridal shower with 20 guests or less, it is for sure that each of the guests will get a different Bingo card but if you are having more than 20 guests you can take duplicate print outs of some cards.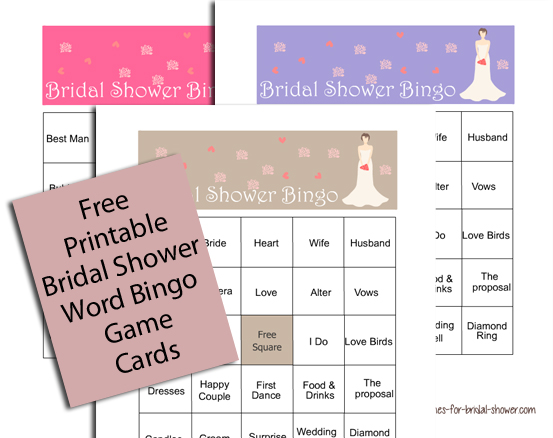 How to Play: Print and distribute the cards among your Bridal Shower party guests along with a pen or pencil. Now take caller's checklist and randomly call words written on it. The guests will have to mark the words on their cards when it is called. The guest who will complete a row diagonally, horizontally, or vertically first should shout the word 'Bingo' or you can ask them to shout 'Bride' and that guest will be the winner. In case of distributing duplicate cards, you have to make it clear that the guest who will shout 'Bingo' or 'Bride' FIRST will be the winner. You can also cut the words from callers checklist and put those in the jar and then randomly take out the words and call one by one.
Bridal Shower Bingo Game in Taupe Color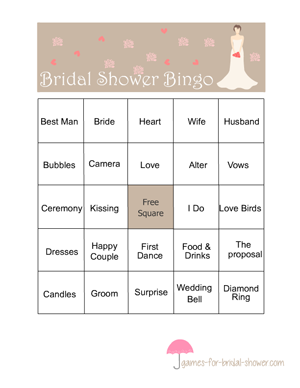 Click on the Bingo game image above to download the .zip file with the cute bingo game cards in taupe color. These cards are decorated with beautiful image of a bride, roses and hearts. It will be fun to play games on Bridal Shower if they are made in such a beautiful way.
---
Free Printable Bingo Game for Bridal Shower in Pink Color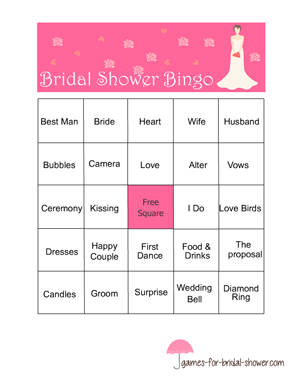 Pink is a perfect color for Bridal Shower games and your guests will enjoy playing games more, if the games are decorated with cute graphics. Click on the game image above to download the bingo cards in vibrant pink color.
Bridal Shower Bingo Game in Lilac Color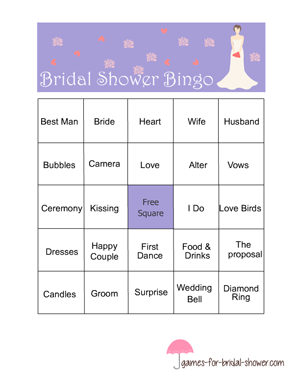 Lilac is also one of the favorite colors for Bridal Shower Parties and you can download these cards and play on any Bridal Shower.
You can download some more beautiful word bingo cards for bridal shower from my party games.
Related Posts
---