Free Printable Bridal Shower Guest Bingo Game
This is a fun and interesting bridal shower icebreaker game. If you are having such a bridal shower where majority of guests do not know each other, this game will introduce them to each other in a fun way. I have also included a similar game on this website called 'find the guest', but I personally think that this Guest bingo game is more fun. The guests will have to look for a guest who went to school with bride to be or who is related to brode to be. The guests will need to talk in order to get the information from the other guest and it will be a real fun way to get to know each other. You can download the Free printable bridal shower guest bingo game cards in the color of your choice from this page.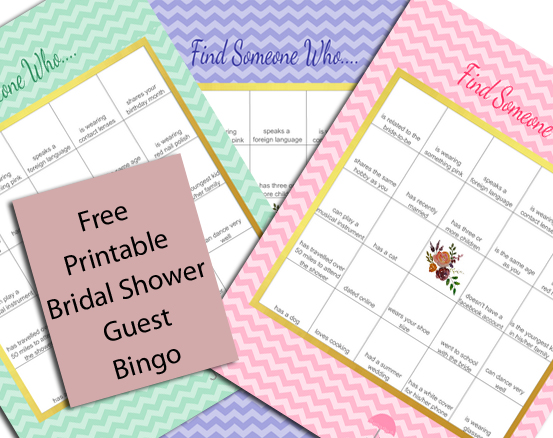 How to Play: Print and distribute these pretty free printable guest bingo cards among your bridal shower guests along with a pen. Ask them to mingle and find the name of the guest according to the specification given in each box. Each guest should write down the names and complete the one row either horizontally, vertically or diagonally. The guest who completes a row and shout out the word 'bingo' or 'bride' first will be the winner.
Bridal Shower Guest Bingo Game in Pink Color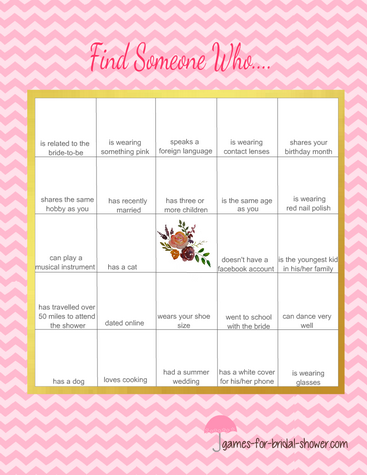 Click on the image above and right click and save the bigger printable image. This adorable bingo game card is decorated with a chevron pattern in light and dark pink colors. If this color matches the theme of your bridal shower party, then go ahead and print it.
---
Free Printable Bridal Shower Guest Bingo Game in Lilac Color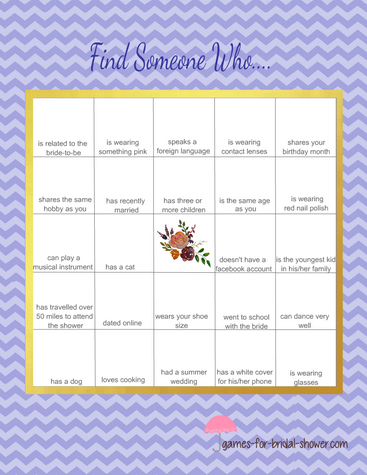 If the bride likes lilac color or your bridal shower party theme can incorporate this color then you can download and print this bingo card in lilac color. This pretty game card is decorated with a chevron pattern and flowers.
Find that Guest Bingo Printable in Mint Color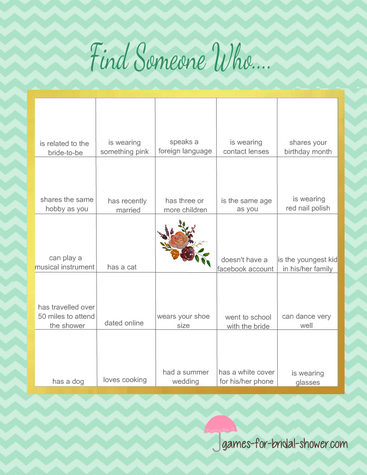 I always make the game printables in 3 colors to make it easy for the bridal shower party host to decide what they want. Mint is one of my most favorite colors. You can download this bridal shower guest bingo game in mint color if you also like this color as much as I do. Just click on the thumbnail image of this game and a bigger image will open up, you can right click and save that.
Related Posts and Categories
---