Free Printable Over or Under Bridal Shower Game
Bridal Shower Games and activities become more fun filled when bride-to-be is involved as well. This Free Printable Over or Under Bridal Shower Game is also one such game in which bride-to-be's participation is very important. I have made these game cards in three different colors and I have used my own original graphics in order to make this game. You are not allowed to add any images from this website to your blog.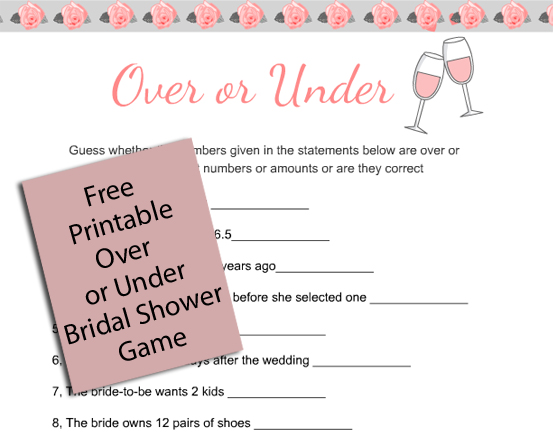 How to Play: Print and distribute these cards among the bridal shower party guests along with a pen. Give one game card to the bride as well. There are several statements given on each game card. The guests will have to guess whether the number given in these statements is correct, over or under the real number or amounts. They can fill in the blanks given against each statement with the words 'over' and 'under'. Match the answers given by the guests with those that are given by the bride-to-be. The person who has given the most correct answers will be the winner.
Free Printable Over or Under Bridal Shower Game in Mint Color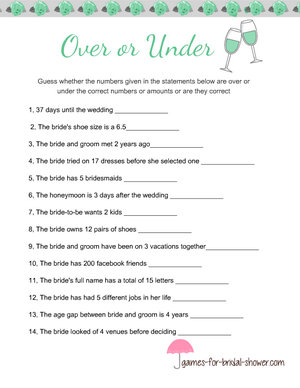 This is an adorable free printable image that I have created for this game. This cute printable is decorated with mint green flowers and a grey border at the top. I try to make my game graphics in a way that they wont consume much ink from your printer and it will be cost effective to take the print outs. To save this game just click on the thumbnail image that I have shared above and then right click and save the bigger image.
---
Over or Under Bridal Shower Game in Pink Color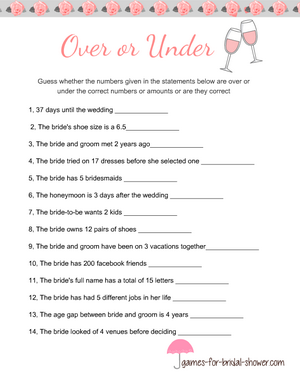 Pink is another pretty color and I have made this game card decorated with pink roses as well. You can take print outs of this game in pink color if it goes well with the theme of your bridal shower party.
Over or Under Game in Lilac Color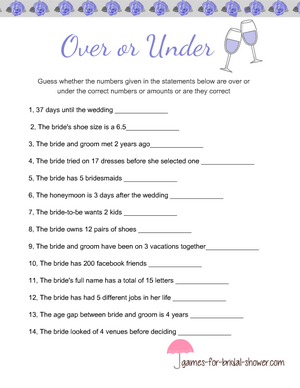 Lilac is another lovely color. If you like this color then click on this thumbnail image of the game and then right click and save the bigger printable PNG image.
I have also made this game in two very pretty designs that you can download from my other website mypartygames.com.
Related Posts and Categories
---