Free Printable Match the Disney Couple Game
Who doesn't watch Disney movies? This is a fun free printable game that I have created for your bridal shower party. The guests will have to match 16 very famous Disney couples. I have created adorable game cards in three different colors so you can download this game in the color of your choice. If kids are attending the bridal shower party, you can let them play this game as well.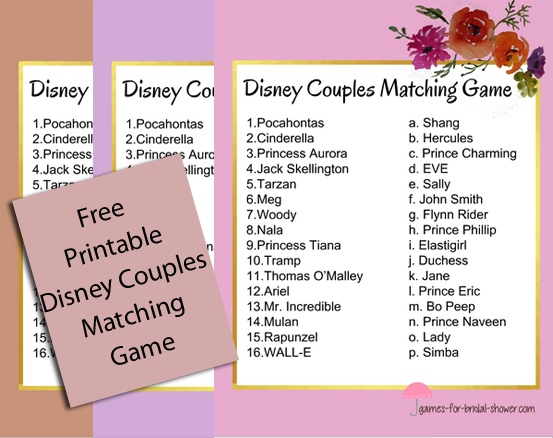 How to Play: Distribute match the Disney couple game cards among your bridal shower party guests along with a pen and ask them to match the couple by joining the name of the famous Disney male character with the famous Disney female. The person with most correct answers will be the winner. You can also assign a time limit to your guests to complete this game. Like ask them to complete it either in 3 minutes or 5 minutes.
Free Printable Match the Disney Couple Game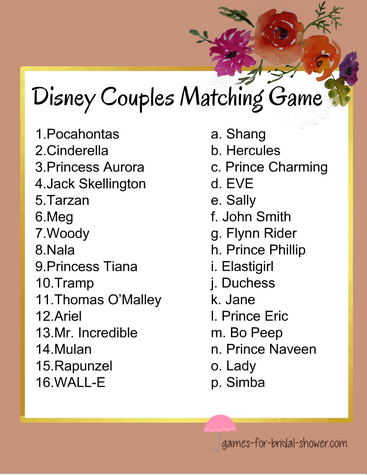 Here is the first free printable game card for this game. This adorable game card is made in a beautiful design and your bridal shower guests will love it. To download this game just click on the thumbnail image that I have shared above and the bigger high-resolution image will open up.
---
Match the Famous Disney Couple Game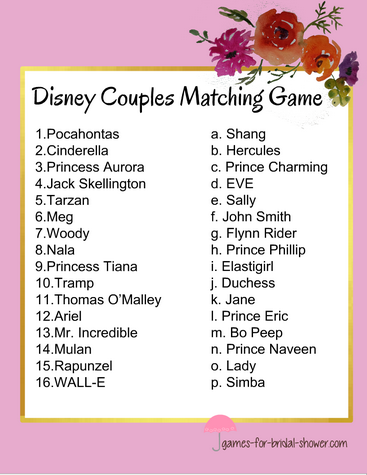 This is the second color for this fun matching game that you can print by using a printer at your home. This cute free printable game is free for personal and non-commercial use.
Match the Disney Couple Game

Printable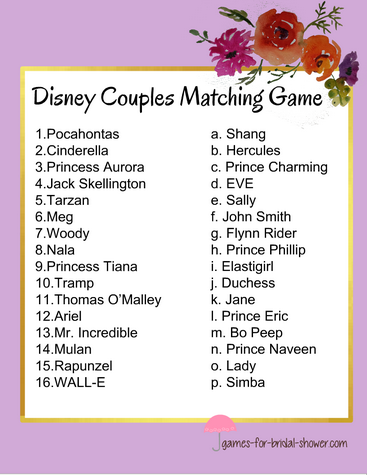 This is the third color for this printable bridal shower game.
Match the Disney Couple Game

Answer Key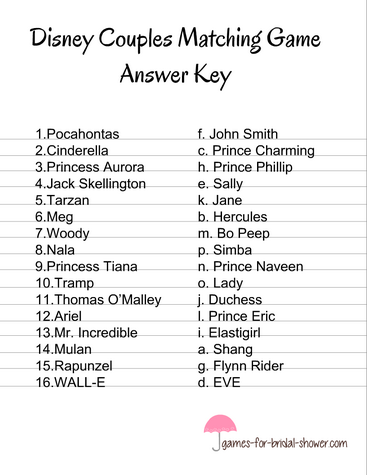 Here is the answer key to this fun Bridal Shower Game. You will only need one copy of this key. Just click or tap on the thumbnail image according to your device and save the bigger printable image.
Related Posts and Categories
---