Free Printable Wedding Etiquette 911 Game Cards
Wedding Etiquette 911 is a modern, new and extremely funny and hilarious game. I have made 6 funny questions for this game and 2 blank game cards where you can add your own personalized questions. The idea is to ask you guests these questions about various situations and ask them that what should be the proper etiquette in that situation.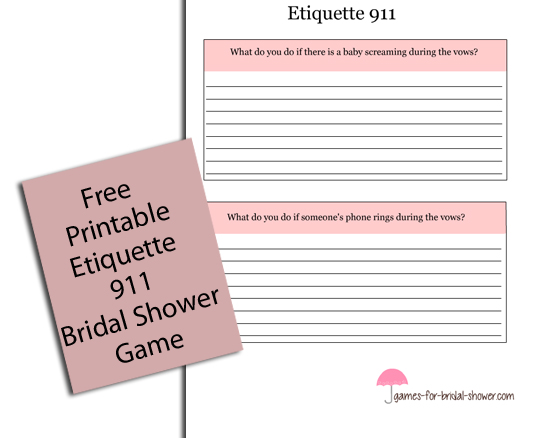 How to Play: Take print outs of these game cards. Write down some more funny scenarios in the blank cards and distribute these cards among your guests. Ask them to write down the proper response according to the situation. Collect all the game cards and read the answers aloud. Laughter is guaranteed. :)
Free Printable Etiqutte 911 Game Cards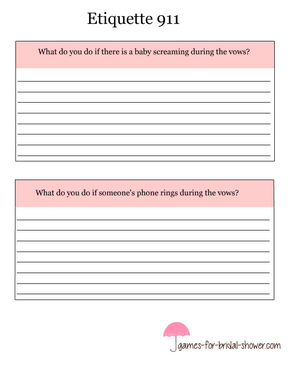 This is the first set of free printable etiquette 911 game cards. There are two questions on this printable sheet. Ask your guests that what do they do if a baby starts screaming or someone's phone rings during the vows?
---
Etiquette 911 Printable cards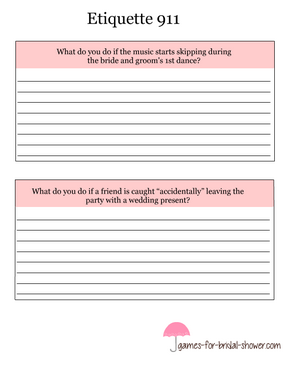 Here are two more printable cards for this very funny and hilarious game. Just click on the thumbnail image and a bigger image will open up, right click and save that.
Printable Etiquette 911 Cards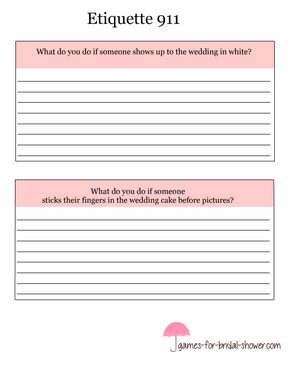 Here are two more free printable cards for this game. Ask the guests that would they do if someone shows up in white at the wedding or if someone ruins the cake?
Free Printable Etiquette 911 Blank Cards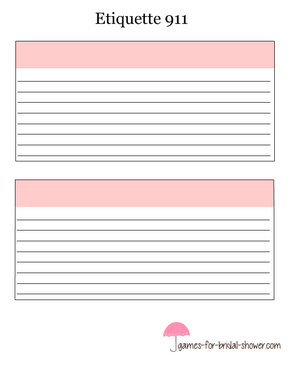 Here are two blank free printable etiquette 911 game cards. You can take as many printouts as you may like and write down your own funny and hilarious questions.
Related Posts and Categories
---