Bridal Shower Purse Bingo Game Idea with Free Printable Items List
Purse Bingo is another fun Bridal Shower Bingo game. This is a variation of what's in your purse bridal shower game but this is unique in the manner in which it is played.
I am sharing the detailed instructions for playing this game on this page and I am also sharing a free printable Item's list that the host can use. You will only need just one copy of this list. Read the listed items in the order as I have tried to write down the names of most common to least common things, however, you can change the order of the items if you think differently. This is a ladies only game and you can play this game at your bridal shower, bachelorette party and hen's party.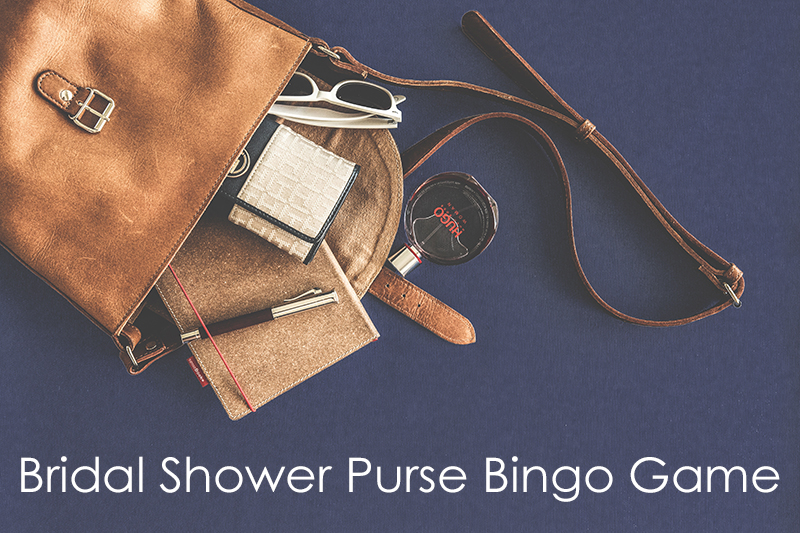 How to Play:
Ask all the ladies to stand up with holding their purse in their hands. Start naming items that are given on the caller's items list. When you name an item that a guest does NOT have in her purse, she sits down but those who have it should keep standing. Keep calling the items' names and the last person standing will be the winner of this game. You can also read detailed intructions for playing this game on this website.
Free Printable Bridal Shower Purse Bingo Items List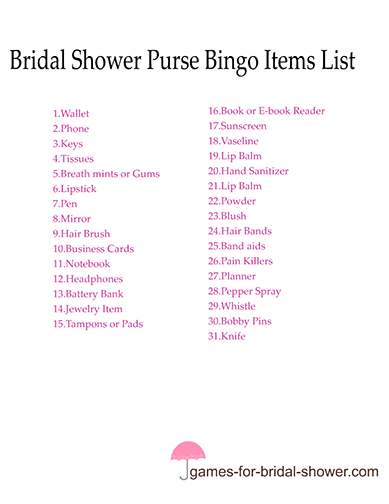 Here is the Items list for Bridal Shower Purse Bingo game. You just have to click on the thumbnail image and you will go to the next page where bigger printable PNG image for this checklist is shared. Some of the items that are given in the list are Wallet, Phone, Keys, Tissues, Business Cards, and Headphones but I have provided a list of more than 30 items that are likely to be found in someone's purse.
Related Posts
---