Free Printable Bridal Shower Picture Bingo Game
Bingo is a very popular and classic party game. There are many variations of this game like word bingo, guest bingo, gifts bingo and picture bingo etc. I have included all types of bingo games on my website and on this page I am sharing adorable free printable bridal shower picture bingo game cards in 3 colors. This picture bingo game is decorated with beautiful and original bridal shower and wedding related graphics. All these graphics are created by me. I have created 10 different bingo cards so if you are having a party of 10 guests or less, each guest will get a different card to play bingo. If you want to print the cards for more than ten guests, you can take more than one printout of some cards. I have included a callers checklist in each zip folder that you can download from this page.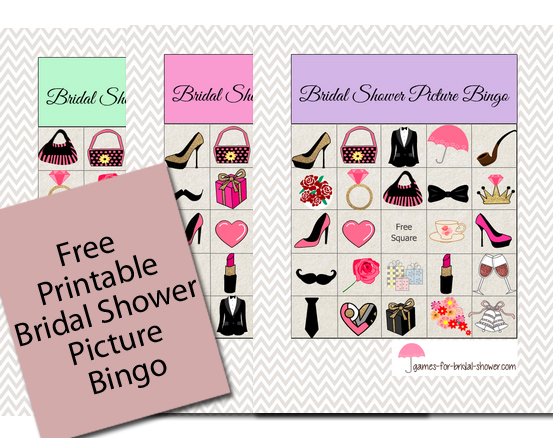 How to Play: Print and distribute the picture bingo cards among your Bridal Shower party guests along with a pen or pencil. Cut the pictures from the callers checklist and put those in a jar. Now draw the pictures one by one and display these to your guests in a way that the picture is clearly visible to all the guests. Ask the guests to cross the picture on their bingo cards when they see it getting displayed. The guest who will complete a row diagonally, horizontally, or vertically first should shout the word 'Bingo' or 'Bride' and that guest will be the winner. In case of distributing duplicate cards, you have to make it clear that the guest who will shout 'Bingo' or 'Bride' FIRST will be the winner.
Bridal Shower Picture Bingo Game in Pink Color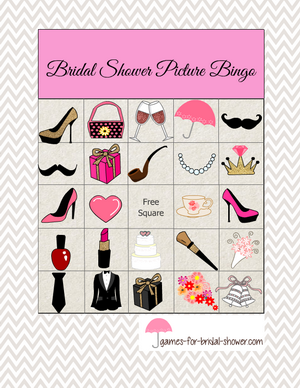 Click on the picture Bingo game image given above to download the .zip file. These cards have imades of hearts, gifts, wedding cake, ring, wedding bells, necklace, neck tie, bow ties, moustaches, lipstick, nail polish and many more pretty images. Your bridal shower party guests will surely enjoy playing this game.
---
Free Printable Picture Bingo Game for Bridal Shower in Mint Color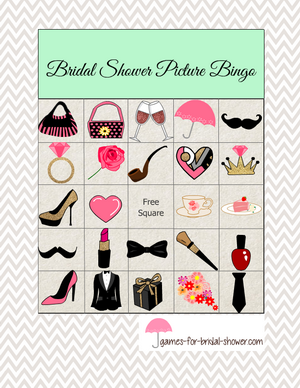 I love mint color and if mint matches the theme of your bridal shower party more, you can print these cards. Click on the game image above to download the bingo cards and also the caller's checklist enclosed in the zip file.
Bridal Shower Bingo Game in Lilac Color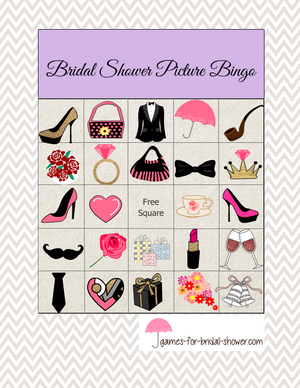 This bingo cards and caller's checklist set has the same images as in the picture bingo cards sets that I have shared above but these cards have an adorable lilac header. Click on the thumbnail to download the zip file.
Related Posts
---