Free Printable He Said, She Said Bridal Shower Game
This is an ideal game for a close circle of friends who know both groom and bride-to-be very well. Other guests can play it with just wild guesses. This is a fun filled and suitable game specially for co-ed showers. I have made this Free Printable He Said, She Said Bridal Shower Game in three different colors. You can easily print this game by using a printer at your home and you can also get these game cards printed from a print shop.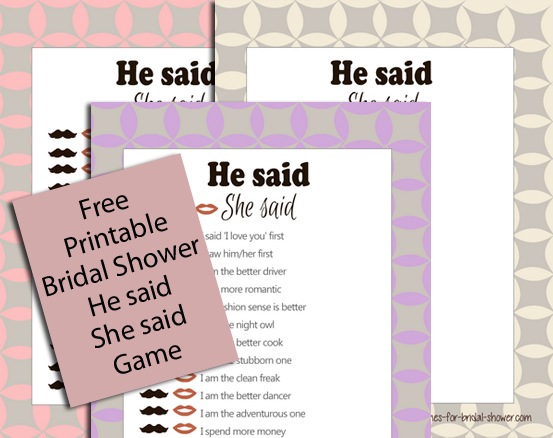 How to Play: Take the printouts of the cards and before the bridal shower, ask the bride and groom to choose what seems right. Guests will have to guess whether bride said it or the groom and they have to tick moustache if groom made that statement and lips if that thing was said by the bride. The person with most correct answers will be the winner.
Free Printable He said, She said, Game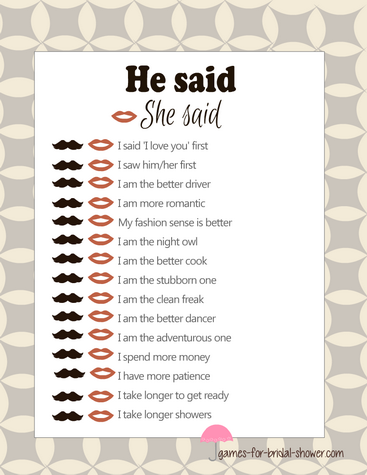 This is a free printable of He Said, She Said game in elegant off-white color. Just click or tap on the image shared above and save the bigger version that you can print using your home printer.
---
He Said, She Said Game in Pink Color Game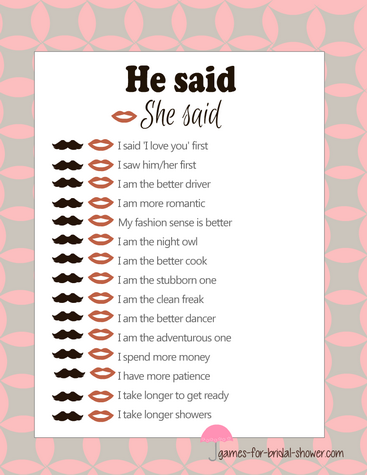 This is the printable sheet for this game in pink color. You can print this if it matches your bridal shower theme more.
He Said She Said Game Printable in Purple Color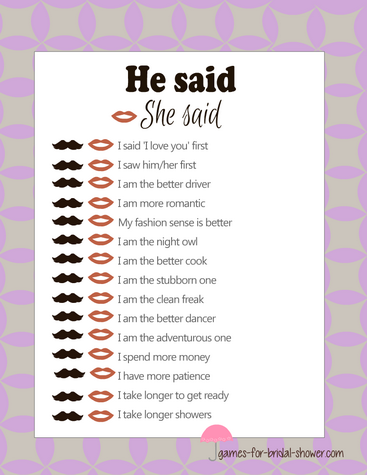 This is free printable he said, she said game in purple color. Click on this game and right click and save the bigger printable version.
Related Posts
---