Who knows the Groom Best? Free Printable Bridal Shower Game
Who knows the groom best? is a perfect and fun filled game especially for a co-ed bridal shower party. I have made floral printable sheets for this game in three different colors. You can print this game in the color of your choice by using a printer at your home or office. All the games on my website are free for personal use.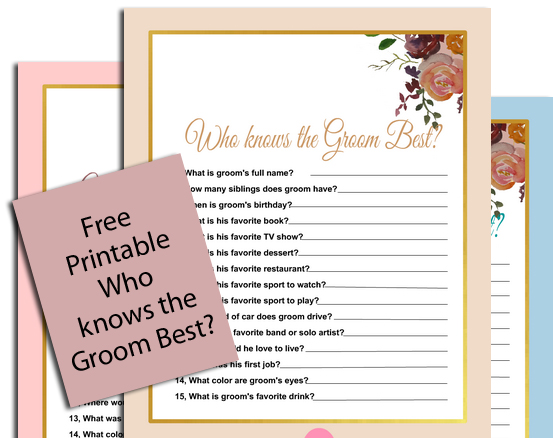 How to Play: Take print out of this game in your favorite color and ask the groom answers to all the questions before the bridal shower party. If this is a co-ed bridal shower then you can hand over a worksheet of this game to the groom with all the other players but use his answers as the key to check the answers of the other guests. You can also use this sheet to check how well does the bride know the groom. This game can be played in many fun ways.
Free Printable Who knows the Groom Best? Game
This is the first free printable for this bridal shower game in blue color. This game card is decorated with beautiful flowers. There are 15 trivia questions about the groom. To save this game in blue color, just click on the game card that I have shared above and then right click and save the bigger image.
---
Who knows the Groom Best? Printable Game in Beige Color
This is another free printable design that I have made for this game. This game card is in beige color and decorated with flowers. This design will be slightly more ink consuming but I think that it will be worth the price.
Who knows the Groom Best? in Pink Color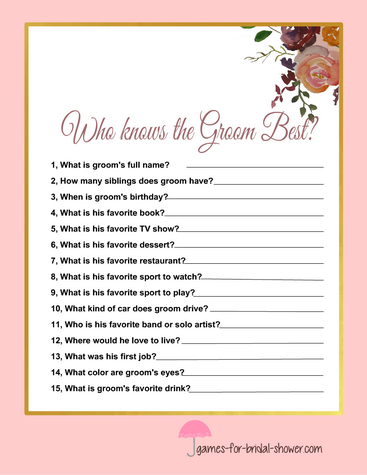 This is free printable game in pink color. You can just click on the thumbnail and a bigger image will open up, right click and save that.
Related Posts
---